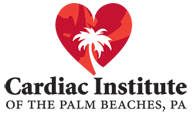 Thank you for choosing the Cardiac Institute of the Palm Beaches for your cardiology needs. Our goal is to provide the best cardiac care available. By staying small and independent, we have been able to do just that: Focus on the unique needs of every individual with state-of-the-art cardiology practices.
Unlike larger cardiology groups, we are able to provide unprecedented personalized service: sufficient time with Dr. Fenster at every office appointment; access to our personal dietitian; and priority with our Palm Beach Heartstrong exercise program. Dr. Fenster is the only cardiologist you see in the office or hospital, barring vacations and a few weekends, and he is your advocate, coordinating with your entire healthcare team. We pride ourselves on old-world customer service: Answering after-hours calls immediately; offering same-day appointments to those requiring immediate, non-hospital care; offering virtually all diagnostic tests under one roof, with one doctor; and live receptionists answering the phone when you call the office.
As many know, times are changing. Rules governing medicine evolve swiftly and often, and doctors usually do not know how their practices will be affected until legislation is passed – nor do they have recourse. Current legislation purposefully makes the practice of medicine more difficult for solo practitioners. As a result, most medical offices today have multiple doctors, often in multiple specialties, and many are being sold to hospitals, all in the hopes of defraying the rising costs of practicing medicine. As a result, most physicians spend scant time with each patient, cannot guarantee a visit with your personal physician, and often resort to requiring physician's assistants or nurse practitioners to perform routine office and hospital visits. Many doctors are now even refusing to go to the hospital at all, leaving your care in the hands of hospitalists, hospital-based physicians who have never met you.
We don't want this to happen at the Cardiac Institute of the Palm Beaches. Our vision has always been to provide you with the care you have now come to expect – the care you should expect – from your cardiologist. In order to continue to provide the best care possible, we request your participation. This fall, we are beginning a membership program, the Consortium. The annual Consortium membership fee of $500 allows you to continue to receive the very same sophisticated, personal service you have come to expect from the Cardiac Institute, plus lectures around the community, a nutritional intake, and access to the Palm Beach Heartstrong program. Most physicians turning to this model are requiring vastly larger sums or tiered pricing, but we are intent on making this change affordable for our patients and continuing to offer the same level of exceptional care to every patient.
We are proud to announce two of our most successful community initiatives since the creation of the Consortium: our partnership with the Max S. Fisher Boys & Girls Club in Riviera Beach and our weekly tai chi classes offered free of charge to all at the Palm Beach Gardens GreenMarket every Sunday at 8am. At the "Max", we have developed nutrition and fitness classes for kids aged 6-8, we offered a boot camp to teenagers, and, perhaps most significantly, built a 5-plot garden for the middle-schoolers to cultivate and harvest with our master gardener. Now in conjunction with the University of Florida, our Palm Beach Heartstrong Garden is thriving, and our kids are literally eating the fruits of their endeavors!
To participate, please complete and return a signed enrollment and payment to our office at 108 Intracoastal Pointe Drive, Suite 100, Jupiter, FL 33477. Unfortunately, insurance and deductibles may not be used for this balance. The enrollment agreement should answer many questions you may have, but please don't hesitate to call our new dedicated Consortium phone number at (561)296-5403 with any questions. We also have the answers to many frequently asked questions on our website under the link to "FAQs". Thank you for your continued commitment to the Cardiac Institute of the Palm Beaches – and to your health!
Sincerely,
Jeffrey S. Fenster, MD, FACC