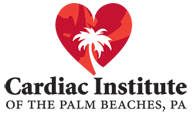 Thank you for your interest in the Cardiac Institute of the Palm Beaches. Our Consortium Program is a unique opportunity for our patients to become members of our practice, providing them with a level of cardiac care virtually unprecedented in the northern Palm Beaches. In addition to our world-class cardiac services, the Cardiac Institute of the Palm Beaches is a one-stop shop, offering not only full diagnostic testing in-house, but also providing a physician who provides general and invasive cardiology services. Additionally, Dr. Fenster is the only doctor in our practice and the only cardiologist taking care of our patients in the hospital (barring vacations and periodic weekends). From advocating during hospital stays, to coordinating care, to community outreach, lectures, and more, so many of our patients depend upon us during their times of need in Palm Beach Gardens, Jupiter, and beyond.
The best medical care requires a team approach. In addition to our traditional services, we provide: the highest technology, including being the first physician's office in the United States using proprietary technology in our new remote monitoring system; a new telemedicine option with a HIPAA-certified protected portal for video chatting; a physical therapist, as needed for strength development; and a nutritionist, providing 90-minute consultations subsidized by the Consortium.
This past year was full of great experiences, and we believe that strengthening our community is critical to being good citizens and healthcare advocates. Though we've long been supporters of the Max M. Fisher Boys & Girls Club in Riviera Beach, the Palm Beach Heartstrong initiative has added a garden with eight plots and 2 hydroponic towers through a partnership with the University of Florida. Additionally, our work with "The Max" has helped provide approximately 300 children and their families with biweekly food pantry services. Heartstrong also sponsors weekly tai chi lessons at the Green Market – free of charge to all – at the Palm Beach Gardens City Hall every Sunday during season. Finally, our patient-only lecture series each spring continues to bring in a full house.
We ask our patient-members not to hesitate to call on our offices at any time with any medical questions and needs. We are there for our patients in the event of a hospital stay, advocating even if it's not a cardiac admission. We want to be available to assist our patients, however we can.
Welcome to the Consortium!