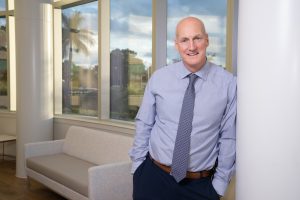 Dr. Jeffrey Fenster is triple-board-certified in general cardiology, interventional cardiology, and internal medicine. He received his bachelor's degree in biology from The University of Texas and his doctorate of medicine degree from Sackler School of Medicine in Tel Aviv, Israel. He completed his internship and residency in the Division of Internal Medicine at the Beth Israel Medical Center in New York and fellowships in cardiology and interventional cardiology from the University of Miami in Florida.
For nearly two decades, cardiologist Dr. Jeffrey Fenster and the Cardiac Institute of the Palm Beaches, PA, has been providing patients in Palm Beach Gardens and Jupiter with unparalleled personalized care. Dr. Fenster believes in taking care of the whole patient and takes time, every time, to talk to the person sitting in front of him to understand what's best in each situation. From nuclear stress tests to echocardiograms and EKGs to monitoring blood levels and heart rhythms, the Cardiac Institute of the Palm Beaches, PA, offers virtually every available diagnostic tool in-house. Dr. Fenster also performs cardiac catheterization, angioplasty, and stent placement for his patients at the local hospitals.
At the Cardiac Institute of the Palm Beaches, cardiologist Dr. Fenster believes prevention is the best medicine. For the care, concern, and time he gives each patient, Dr. Fenster and the Cardiac Institute of the Palm Beaches is the northern Palm Beaches' premiere cardiology practice.
At the Cardiac Institute, attention to our patients is what sets us apart. Given that cardiology is an ongoing science, innovations within our field are always on the forefront of technology. Dr. Jeffrey Fenster is on the cutting edge of this technology by incorporating the following elements into his practice:
Selected by Pinnacle quality assurance program as one of the premiere cardiology practices in the country.
Selected by the Million Hearts Program as one of a choice group of cardiology practices to participate in long-term study to promote cardiac health in the United States.
Electronic Medical Records system
Electronic scheduling system
E-prescribing
Accredited and certified nuclear stress lab
Accredited and certified echocardiology lab
Participant in the American College of Cardiology's IC3 Program for the Physician Quality Reporting Initiative
Jeffrey S. Fenster, M.D., F.A.C.C.
Employment:
Cardiac Institute of the Palm Beaches, PA
Interventional and General Cardiologist
August 2005-current
Cardiovascular Medical Specialists of the Palm Beaches, PA
Associate Interventional and General Cardiologist
August 2002-August 2005
Fellowships:
Interventional Cardiology
Division of Cardiology at Jackson Memorial Hospital / University of Miami, Miami, FL
July 2001-June 2002
General Cardiology
Division of Cardiology at Jackson Memorial Hospital / University of Miami, Miami, FL
July 1998-July 2001
Residency:
Internal Medicine
Albert Einstein School of Medicine, Division of Internal Medicine at Beth Israel Medical Center, New York, NY
July 1996-July 1998
Internship:
Internal Medicine
Albert Einstein School of Medicine, Division of Internal Medicine at Beth Israel Medical Center, New York, NY
July 1995-July 1996
Education:
Doctor of Medicine
Sackler School of Medicine, Tel Aviv, Israel
July 1991-June 1995
Bachelor of Arts in Biology
University of Texas, Austin, Texas
August 1989-May 1991
American University, Washington, D.C.
August 1987-May 1989
Research:
"Survival with Community-Wide Police Car Deployment of Automated External Defibrillators in a Large Metropolitan Area"
Division of Cardiology, Jackson Memorial Hospital / University of Miami, Jeffrey Scott Fenster, M.D., Mauricio Velez, M.D., Robert J. Myerburg, M.D. Presented at North American Society for Pacing and Electrophysiology, 2001
"Out-of-Hospital Cardiac Arrest Mechanisms, Police and Fire Rescue Response Times and Survival"
Division of Cardiology, Jackson Memorial Hospital / University of Miami, Mauricio Velez, M.D., Jeffrey Scott Fenster, M.D., Robert J. Myerburg, M.D. Presented at North American Society for Pacing and Electrophysiology, 2001
"A Multicenter, Randomized, Double-Blind, Placebo Controlled Study to Evaluate the Efficacy and Safety of Ad5.1FGF4 in Patients with Stable Angina"
Division of Cardiology, Jackson Memorial Hospital / University of Miami, Rafael Sequeira, M.D., Eduardo de Marchena, M.D., Alexandre Ferreira, M.D., Jeffrey Scott Fenster, M.D. 2001
Tactics-TIMI 18 Trial
Division of Cardiology, Jackson Memorial Hospital / University of Miami, Eduardo de Marchena, M.D., Esther Levine, M.D., Jeffrey Scott Fenster, M.D., July 1999-December 2000
"The Impact of Anxiety Reduction in Patients Undergoing Cardiac Catherization"
Department of Cardiology, Beth Israel Medical Center / Albert Einstein School of Medicine, Steven F. Horowitz, M.D., Thomas Killip, M.D., Yaacov S. Weiss, M.D., Jeffrey Scott Fenster, M.D., July 1996-July 1998
Honors:
Marvin Stein Fellow of the Year, Jackson Memorial Hospital / University of Miami, June 2002
Chief Cardiology Fellow, Jackson Memorial Hospital / University of Miami, July 2001-July 2002
Dean's Award for Academic Excellence, Clinical Year of Studies in Medicine, Sackler School of Medicine, 1994
Additional Work Experience:
Emergency Room Attending Physician, Miami Veterans Administration Hospital, October 1998-July 1999
Medical Code Team, New York Knickerbockers Basketball Team, 1995-1996
Beth Israel Medical Center Medical Board Representative, 1995-1997
Beth Israel Medical Center House Staff Organization Representative, 1995-1997
Administrative Intern for the Director of the Phillips Ambulatory Care Center, 1995
Medical Licensure and Organizational Membership:
Fellow, American College of Cardiology
Diplomate in Cardiovascular Disease, American Board of Internal Medicine with added qualifications in Interventional Cardiology
Diplomate in Internal Medicine, American Board of Internal Medicine Florida State License
Member, Society of Cardiovascular Computed Tomography
Former Advisory Board Member, Palm Beach Gardens High School Medical Magnet Program